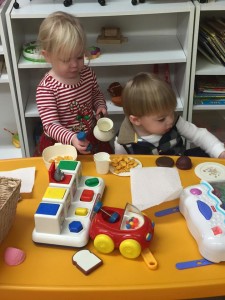 All ages of children are welcome to attend Church School at 10:00 am on Sundays. They have regular lessons between Labor Day and Memorial Day.
Our dedicated teachers are able to give individual attention to each child.
Each Sunday they begin with a short service in the Children's Chapel. Then they have lessons, using the Weaving God's Children curriculum. After the lesson they join the Congregation in the Church for the last part of the service.
During the summer months, a summer children's church, with a less structured format, is offered.
Our Church School is small, but active! They sponsor a parish-wide Lenten Project by collecting and raising money for The Heifer Project International.
In 2014, they raised over $1900/ in 2015 – $2,051; in 2016 – $2,251.39; in 2017 – $2,757.81; and in 2018 – $2,769.64!
20189Heifer Project International Grand Total = $3268.73 !!!!!
Thank you to All!
This is more than just the Church School doing a fund-raising project. Rather, by running this project, the Church School helps the Parish as a whole to engage in a discipline and some activities so the Parish can keep Lent corporately.