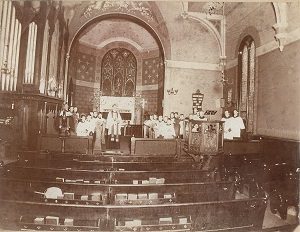 Trinity Church, organized in 1832 by a group of laymen who held prayer meetings. was one of the earliest churches in Jacksonville. Trinity was not the first Episcopal parish in Illinois, but it is the oldest surviving one. In 1835 the Diocese of Illinois was founded, with the Rt. Rev. Philander Chase the first Bishop. Trinity's first church building was dedicated in 1836 by the Bishop of Missouri. At that time there were about 12 families and five communicants.
The remainder of the century was marked by steady growth, in common with other local churches. In part this was due to constant population growth, as the populations of Jacksonville and Morgan County kept rising until 1900. In the 25 years between 1875 and 1900, a record 238 confirmations occurred and church attendance increased substantially.
The next 15 years, through 1915, brought four different Rectors.  The parish experienced difficult times and recorded no growth, but this was not markedly different from the experience of other local churches in the 1900-1920 period. Partly this was due to lack of population growth. Partly to the disruptions of World War I and the postwar mood. In 1918 the parish sustained a severe blow. Fire destroyed the church building which had been greatly enlarged in 1867. Fortunately, the parish hall was saved, and it served as a temporary church until the present structure was built in 1920. J.E.O. Pridemore, a noted Chicago architect, designed the building.
The twenties and thirties posed problems for Trinity and other churches. During the depression and war years of 1930- 1945, financial problems abounded and membership declined slightly. Trinity shared in the general resurgence of church membership and activity after World War II, particularly through the fifties.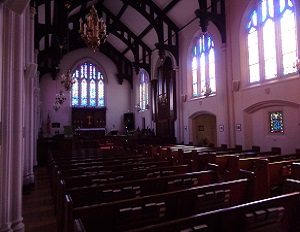 Under the Rev. Reginald Harris the Parish situation steadily improved. Confirmed members rose from 127 to 207 in 1955. After a four year health leave, he returned and served until retirement in 1970, leaving a confirmed membership of 214. For the next 26 years, the Rev. William N. Malottke served as rector. Confirmed membership at Trinity remained remarkably steady during a nationwide period of eroding church membership.  During the post-World War II period, the physical plant was expanded by the erection of a new parish hall in 1964, named "Harris Hall" in Fr. Harris' honor. In 1970 the new pipe organ was installed. Over a period of about 30 years beginning in 1948, through the gifts of many individuals, all of the church windows were replaced with very beautiful stained glass.
Trinity has continued for 186 years to provide a traditional Anglican witness in Jacksonville, IL.